---
Concern for the health of the Employee and Guest of the Gran Hotel Concordia
Our employees have received clear instructions on how to respond quickly and report all suspected cases of COVID-19 on the property to the appropriate health institutions.
We will be ready to provide support to our guests. Employees are instructed to stay home if they are not feeling well, and to contact a manager if they notice a co-worker or guest with a cough, shortness of breath, or other known symptoms of COVID-19.
Employees and guests who exhibit any of the symptoms of COVID-19 while on property should immediately report it to their Manager (employees) or hotel security (guests).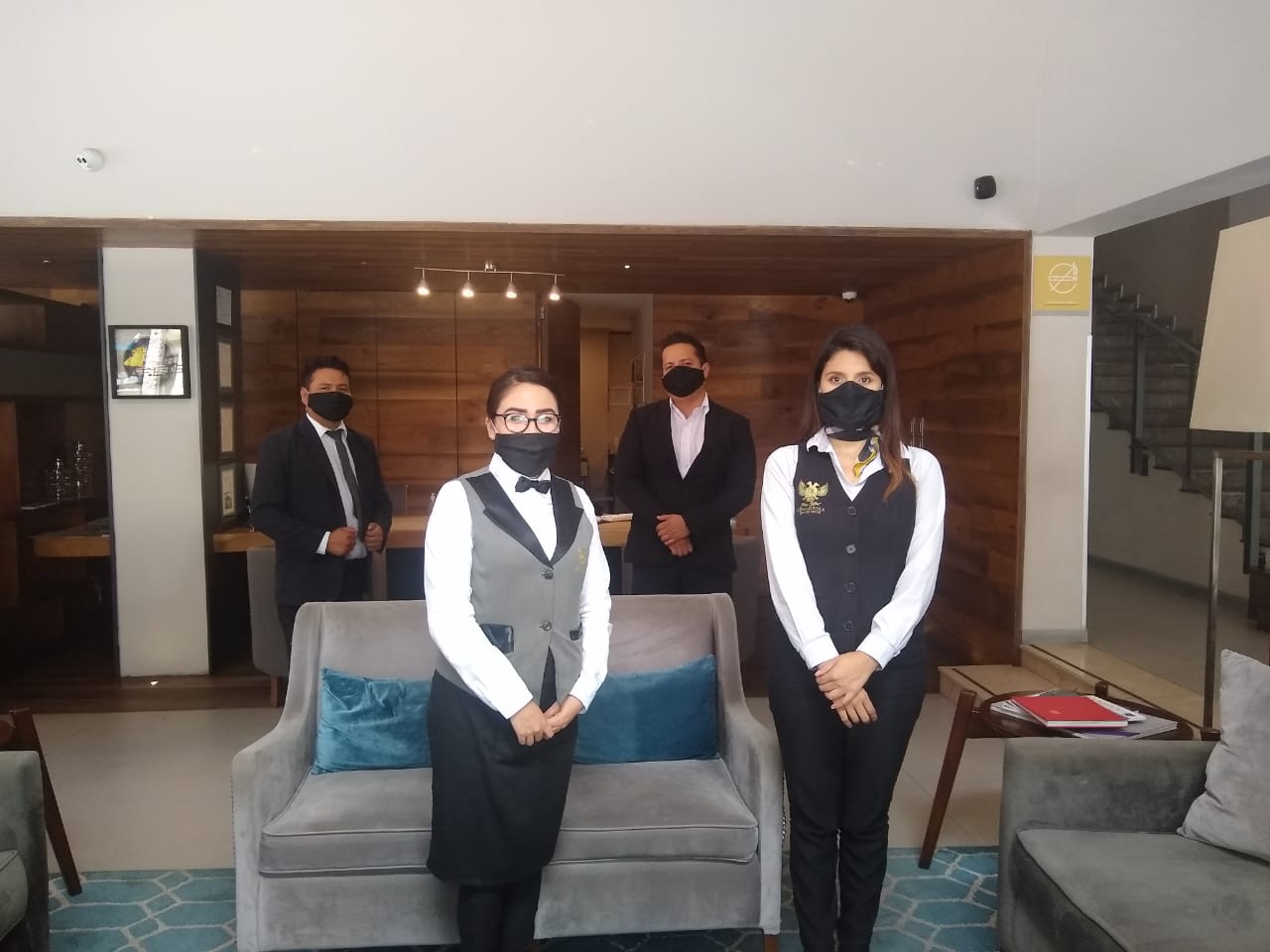 ---
ON ARRIVAL OF THE GUEST
A security element will greet each visitor to the hotel. Visitors will be screened and asked to wear hand sanitizer and a mask (to be provided by the HOTEL).
Proper signage will also be prominently displayed, describing the proper use of the mask and current physical distancing practices in use throughout the HOTEL.
PERSONAL TEMPERATURE
Entry points will be limited to allow our security team to perform non-invasive temperature controls using a Digital Thermometer. Anyone displaying a temperature above 37 ° C (100 ° F) will be taken to a private area for a secondary examination of temporary temperature.
Employees or guests who have a temperature above 37 ° C (100 ° F) will not be able to enter the property and will be directed to appropriate medical attention.
SANITATION SERVICES FOR GUESTS
Each guest will receive a bag of accessories during Check-in that contains a mask, hand sanitizer and a COVID-19 awareness card.
A bottle with a disinfectant spray will be provided upon request owned by the hotel and must be returned upon departure.
GUEST ROOMS
Industry leading cleaning and sanitizing protocols are used to clean guest rooms, with a focus on high-contact items including TV remote control, controls, toilet seats and handles, door handles, and furniture , water faucet handles, night tables, telephones, room control panels, light switches, temperature control panels, alarm clocks, floor luggage racks and rugs.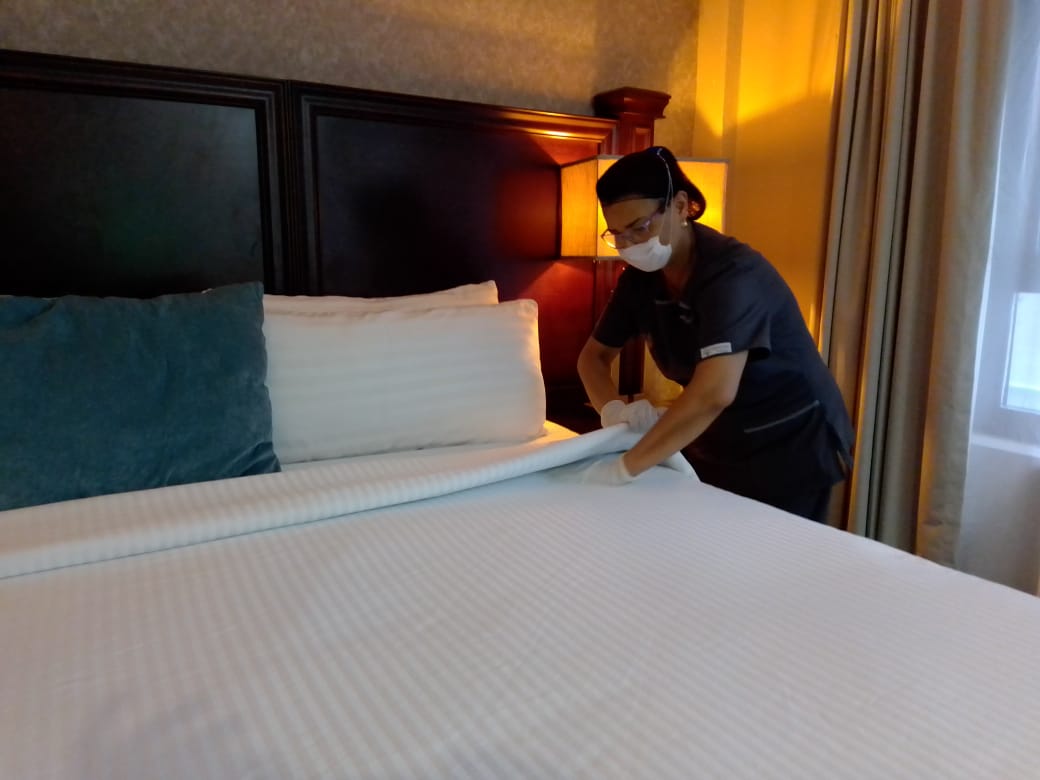 ROOM DISINFECTION
At the Gran Hotel Concordia, we care about the health of our Guests and collaborators and we are paying special attention to the application of cleaning and disinfection measures in common areas and rooms,
We are cleaning the highest surfaces with a cloth / cloth / flannel / towel / jargon impregnated with detergent water, avoiding dispersing the dust
We clean walls, windows and doors that include handles on a regular basis, as well as when they are visibly dirty.
Horizontal surfaces including tables, chairs, beds, shelves, or other fixtures adhered to the wall are cleaned with a cloth with detergent water, rinsed with clean water, and disinfected with chlorine solution.
In the rooms of suspected guests, the same cleaning methodology will be used, with the staff having to follow the required precautions (contact insulation and drops).
In the event of spills of body fluids on the surfaces, the following procedure shall be followed:
The chambermaid puts on gloves and covers the surface with paper / absorbent material.
Removes as much dirt.
Throw the paper / lava with another material
Finally, cleaning continues a regular basis.
Regular household disinfectant solution containing 0.1% sodium hypochlorite (ie equivalent to 1000 ppm). Surfaces are rinsed with clean water after 10 minutes of contact with chlorine.
ROOM RECOVERY PROTOCOL, IN CASE OF ALLEGED CASE COVID-19
The guest's room will be removed from service and quarantined
The guest room will not be returned to service until the case has been confirmed or cleared.
In the case of a positive case, the room will only be returned to service after undergoing a sanitation protocol enhanced by a licensed third-party expert and in accordance with protocols approved by the authorities
GEL ALCOHOL
Contactless hand sanitizer dispensers whenever possible are placed at key entrances and contact areas for guests and employees, such as entrances, reception areas, hotel lobbies, the lobby floor, restaurant entrance, Meeting space outside the elevator and meeting room
HANDWASHING.
Proper hygiene and frequent handwashing with soap is vital to help combat the spread of the virus.
All employees of Hotel Concordia have been instructed to wash their hands or use disinfectant when there is no sink available, every 60 minutes (for 20 seconds) and after any of the following activities: use the bathroom, sneeze, touch the face , blowing your nose, cleaning, sweeping, mopping, smoking, eating, drinking, going in and out of the game room, taking a break, and before or after starting a shift.
ARRIVALS AND ELEVATOR
Arrival of guests by Hotel in hotel vehicles
Hotel vehicles will be thoroughly cleaned before and after each use
No more than four guests will be allowed per van
No guests will be allowed in the front passenger seat
ELEVATORS FOR HOTEL GUESTS
An employee will be present to disinfect the button panels at regular intervals, at least once an hour.
Signs will be posted to explain current procedures.
No more than four guests will be allowed per elevator.
VALET SERVICE, TAXI, OR SHARED TRIP FOR GUESTS
Guests will enter the hotel through doors that are open and manually operated by an employee.
Employees will not open car or taxi doors
Guests requesting the bell service will receive assistance and the gondola or luggage trolley will be disinfected after each guest is assisted.
LAUNDRY
All sheets and linens will be changed daily and will continue to be washed at a high temperature and in accordance with CDC guidelines.
Dirty laundry will be bagged in the guest room to remove excess contact while transporting to the laundry
PUBLIC SPACES AND COMMON AREAS.
Cleaning and disinfection frequency have increased in all public spaces with an emphasis on frequent contact surfaces, including but not limited to reception desks, elevator buttons and door handles, public restrooms, room keys and locks, escalator and stair handrails, gym equipment , dining areas and seating areas
RESTAURANT AND MEETING SPACES
The capacity of seats was reduced to allow a minimum of 1.5 meters between each group and group of guests seated at a healthy distance
The buffet service is replaced by American breakfast
Room service is provided from 08:00 am until 10:30 pm
Meeting and Convention Spaces: Arrangements for organizing meetings and banquets will allow physical distance between guests at all meetings and events in accordance with relevant international standards and state recommendations. Self-service buffet style food service will be discontinued and replaced by alternative service styles.